STOP AHUNAN HYDROPOWER DAM PROJECT
STOP DESTROYING COMMUNITIES
STOP ECOLOGICAL DESTRUCTION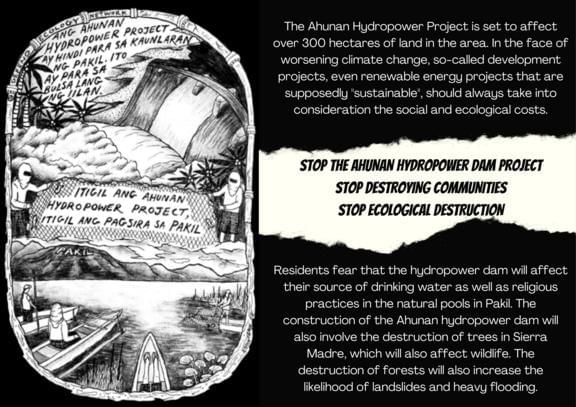 Ahunan Power Inc., the joint venture of tycoon Enrique Razon's Prime
Metro Power Holdings Corp. and JBD Water Power Inc., is developing a 1,400-megawatt pumped-storage hydropower plant in Laguna province at a cost of $1.1 billion.
The company is developing the project on a 299.40-hectare site in Pakil,Laguna.
It plans to start the permitting and feasibility studies under the development stage in the third quarter and begin construction by the first quarter of 2023, with commercial operations expected in the first quarter of 2027.
Progressive groups have campaigned against the 1400-MW hydropower project for its possible impacts on local communities, exacerbating local flooding and typhoon impacts. The Ahunan Hydropower Project is projected to affect over 300 hectares of land in the area. In the face of worsening climate change, so-called development projects, even renewable energy projects that are supposedly "sustainable", should always take into consideration these social and ecological costs.
Residents fear that the hydropower dam will affect their source of drinking water as well as religious practices in the natural pools in Pakil.
The construction of the Ahunan hydropower dam will also involve the destruction of trees in Sierra Madre, which will also affect wildlife.
The destruction of forests will also increase the likelihood of landslides and heavy flooding.
We wanted to act against this development intrusion and we needed your help to raise funds for logistical support and campaign materials like posters, stickers, flyers, banners and t-shirt that will cost approximately 30,000 thousand pesos(523 euro).
Defend Ecology Network/ Etniko Bandido Infoshop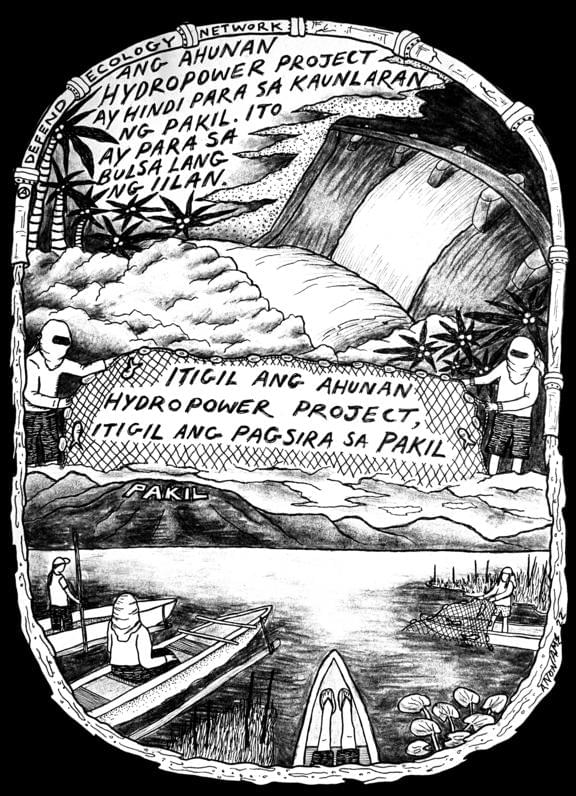 0% of €523
€ 0 reached in total
-462 days left