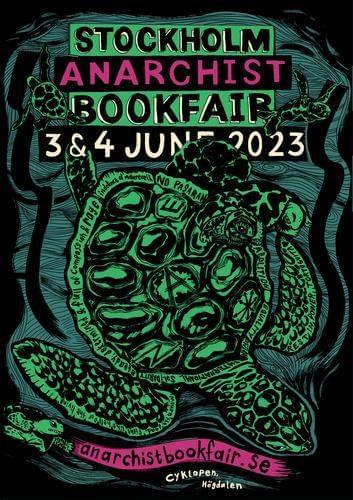 To our dear comrades, saboteurs, slackers, sinners, and haters of this burning hellscape known as capitalism.
The ice is melting so it's finally time to get ready for the 2023 Stockholm Anarchist Bookfair
On the 3-4th of June we welcome you to a weekend of discussions, presentations, assemblies and workshops complete with books, perdiodicals, zines and the finest anarchomerch you can get your filthy little hands on in northern Europe!
One of the primary missions of the bookfair is to bring people together in defiance of borders and nations
to share revolutionary ideas and practices. In past years we have brought ideas and praxis to Stockholm through many different authors, organizations, and struggles and we wish nothing more than to continue. To bring comrades to Stockholm is expensive so we're asking you all to make this happen!
Till våra kära kamrater, sabotörer, slarvare, syndare och hatare av detta brinnande helveteslandskap som kallas kapitalism.
Isen smälter så det är äntligen dags att göra sig redo för Stockholms anarkistiska bokmässa 2023!
Den 3:e-4:e juni välkomnar vi dig till en helg med diskussioner, presentationer, församlingar och workshops, komplett med böcker, perdiodikaler, zines och den finaste anarkomerch du kan få dina smutsiga små händer på i norra Europa!
Ett av bokmässans främsta uppdrag är att föra samman människor som trotsar gränser och nationer
för att dela revolutionära idéer och metoder. Under de senaste åren har vi fört idéer och praxis till Stockholm genom många olika författare, organisationer och kamper och vi önskar inget annat än att fortsätta. Att ta kamrater till Stockholm är dyrt så vi ber er alla att göra detta möjligt!
Vi är en liten grupp som utför all tråkig logistik för att få bokmässan att ske, men det är verkligen er bokmässa och vi behöver ert stöd (såvida ni inte är snutar, liberaler eller fascister eller något liknande, då kan ni dra åt helvete!
0% of €1312
€ 0 reached in total
-200 days left